This is an investigation in progress. In November 2018 I arrived at Fayoum Art Center, an artists' residency center in Tunis, a village bordering the Northern Sahara, 150 southwest of Cairo. I will work in Egypt for approximately a year. I came here to make a series of papier mache sculptures with the working collective title The Embraces. Each form is built around a disk similar to a drum cymbal, and balances on a stand. Recently, I took the sculptures-in-progress to a field near my studio, to begin to understand how they relate to the landscape, each other, and the energetic air around them.


I began this body of work while living in Berlin last year. These images show the sculptures in progress in KAOSBerlin, the co-working warehouse where I had a studio.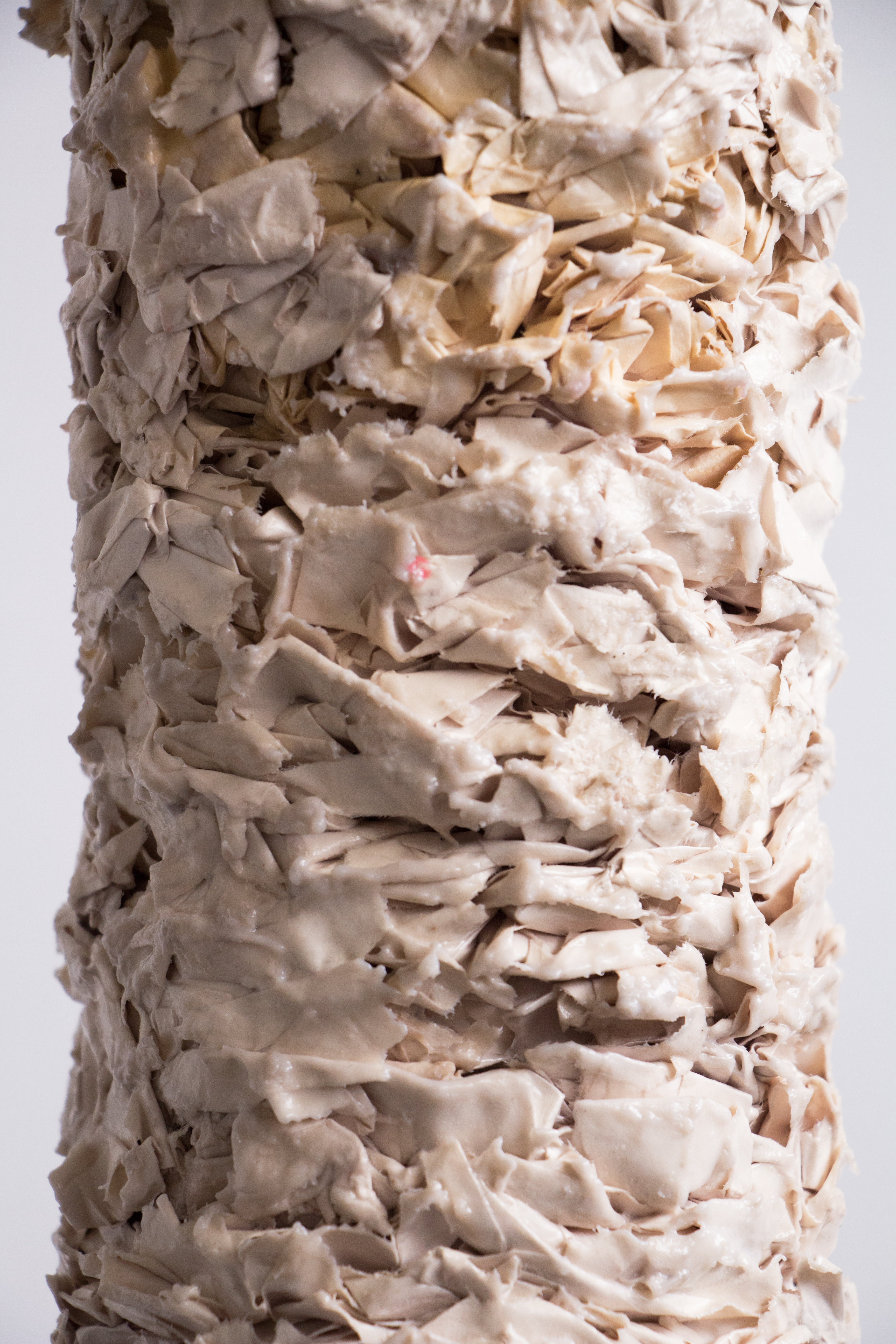 My present studio in Tunis:


The metal stands are made so that the 'cymbals' balance at my shoulder height. The contours of the form that is gradually appearing each one is decided by the relationship between the disk's surfaces area and the volume of air that my arms encircle when I 'hug' it close. It is an investigation of bodily geometry, and (I have slowly realised) a systematic generator of strange and satisfying form.

The close and awkward relationship between the sculpture I am making and my making body has long preoccupied me.

A tiny self portrait made about ten years ago: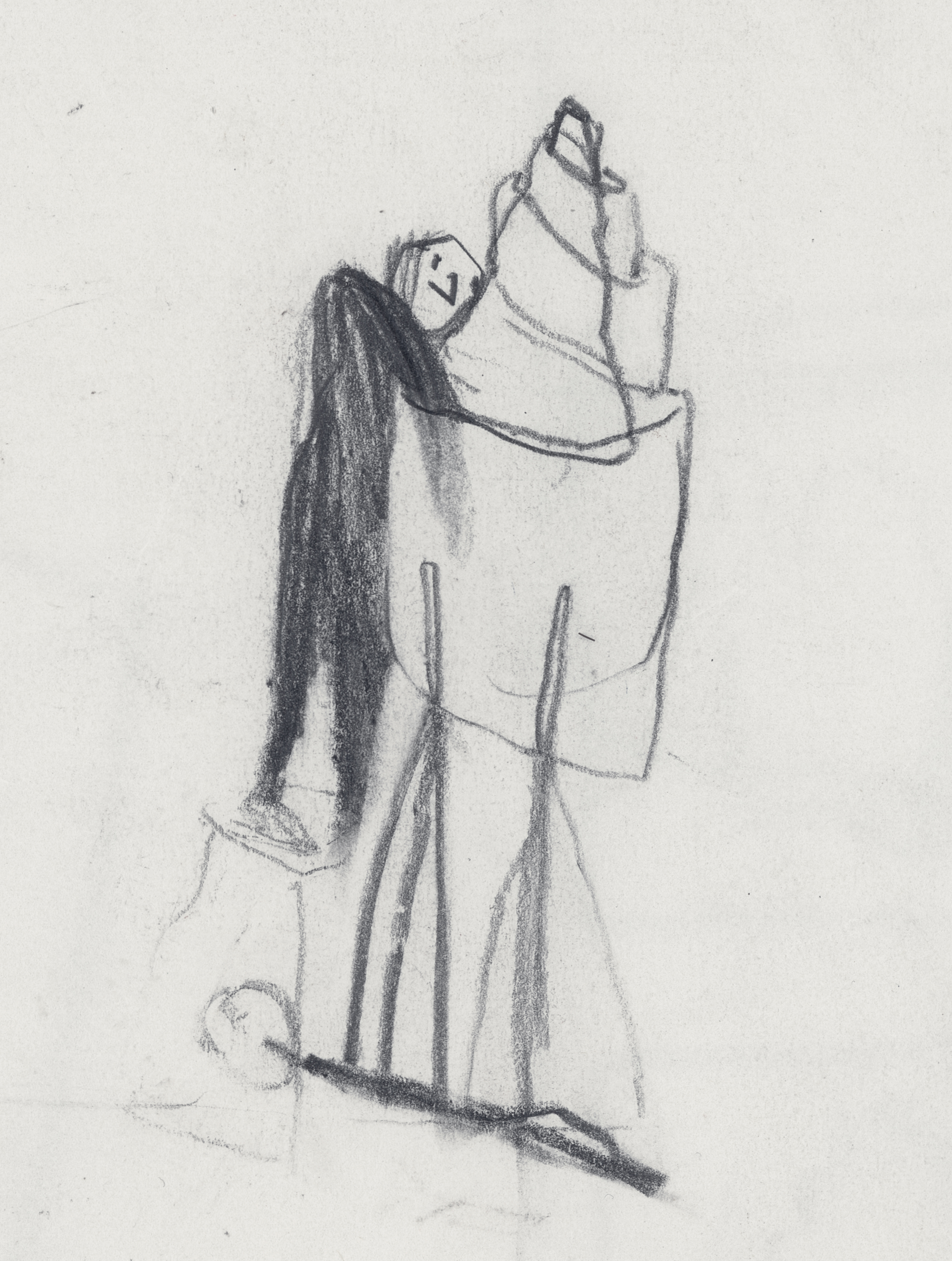 A recent working drawing:



My current investigation began with a series of figures 1/10th my own dimensions, which allowed me to begin to test the relationships between armspan, surface area and volume.


1/10th SPACE
Flour,cornflour, plaster, salt, ink, sawdust, wood, steel, rubber, table
2018
1/10th SHAPES
pencil on paper
2018
AUDITION TO BE THE ARTIST
Copper, lead, tin, bismuth, steel, brass, wood.
2018
PLAN AND NO-PLAN
Flour,cornflour, plaster, salt, ink, sawdust, wood, steel, rubber , plasticine
2018
I arrived in Egypt with this series of small preparatory works and the bare cymbals.

A few days later, I went to the factory of Youssef Allam, a family business who have been importing paper to Egypt since 1948. They kindly agreed to donate the 100kg of newsprint paper I am using to make the sculptures.

The machine invented by the company's engineers to unspool waste newsprint paper from its cardboard core.
My paper.

Last month I travelled to a small village called Nazla. The potters there make vessels from river clay, ash and straw, compressing it against the sides of a curved hole in the ground with their arms, legs and back as much as their tools. Their bodies know how to make form. It is ancient knowledge: pots have been made this way since the times of the Pharoahs.
I have started a work using their black river clay. It will be composed of hundreds of dense, dark forms the same size and shape as the sequence of yellow forms I found with the help of the rubber armed man, (shown in the work entitled 1/10th SPACE, above.) Below are some early experiments.

But first, I will complete The Embraces. Then I will temporarily 'install' them in the desert beyond the village. I want to make drawings and photographs, and learn how perception deals with objects that punctuate massive space.